Solid 925 Sterling Silver Italian SNAKE Chain for Pendants Bracelet or Necklace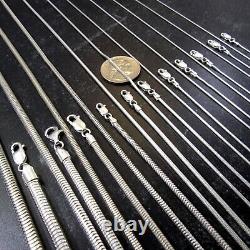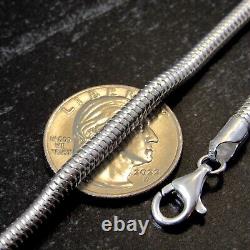 Solid Genuine 925 Sterling Silver Italian Round Snake Chain, Made in Italy, Bracelet or Necklace for Men & Women. 9MM 1MM 1.1MM 1.2MM 1.5MM 2MM 2.5MM 3MM 4MM 5MM. Choose Length (Bracelet or Necklace): 7 7.5 8 9 10 14 16 18 20 22 24 26 28 30 36 Inches. Our chains are guaranteed authentic 925 sterling silver.
Sterling silver is nickel-free, non-magnetic, and hypoallergenic. Each chain is quality stamped 925 and has an Italy hallmark. Snake chains are the go-to design for showcasing pendants and charms of all sizes. Our narrowest snake chains measure less than a dainty 1mm, while our thickest snake chains offer a chunky, masculine look. When utilized alone, round snake chains are the perfect necklace to get creative; try stacking and layering to achieve a unique look. These flexible chains can be wrapped around a time or two and worn in various ways. Crafted in solid sterling silver, each of our snake chains secure with a loster claw clasp. 8MM: 1.6 - 3.5 grams. 9MM: 2.5 - 4.8 grams. 1MM: 1.2 - 5.3 grams.
1.1MM: 1.6 - 7 grams. 1.2MM: 2 - 8.7 grams. 1.5MM: 2.9 - 12.5 grams. 2MM: 5 - 20 grams.
2.5MM: 4.6 - 18.1 grams. 3MM: 6.1 - 24.1 grams. 4MM: 21.1 - 39.4 grams.
5MM: 28 - 52.7 grams. Renegade Jewely has been in business since 1999 with an outstanding record of quality and service. All of our silver and gold jewelry will fire assay in excess of industry standards for purity. All of our gemstones are guaranteed genuine unless otherwise noted as lab created.
Thank you so much for your business!