SAMUEL B BJC 925SS/18K Multi Gemstone Cuff Style BraceletReg. $1050 Stunning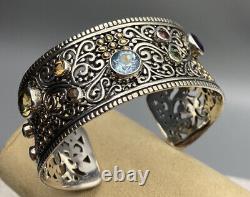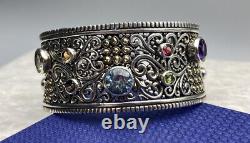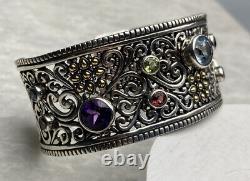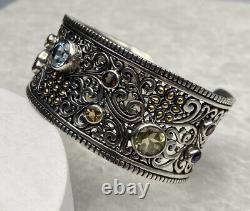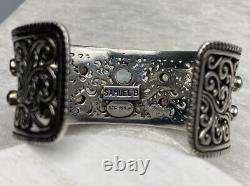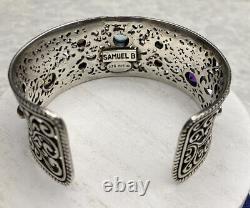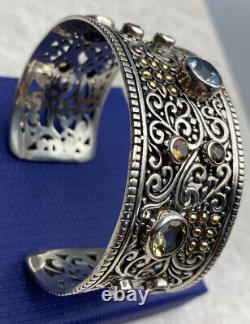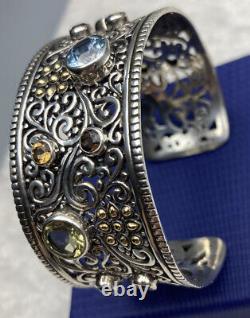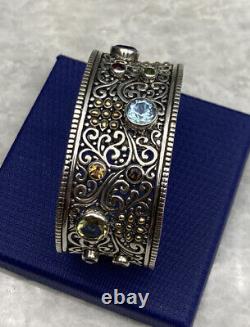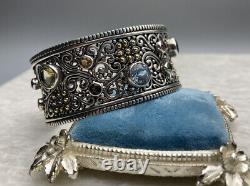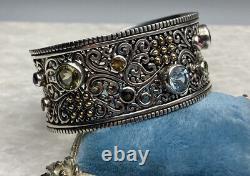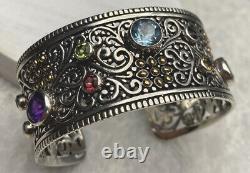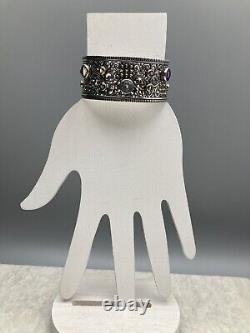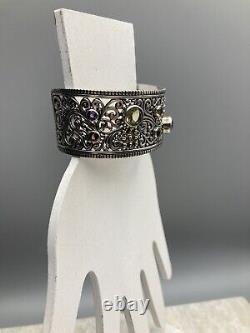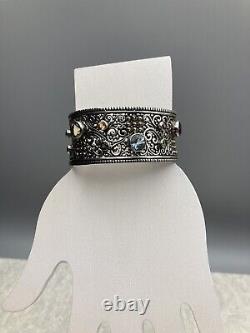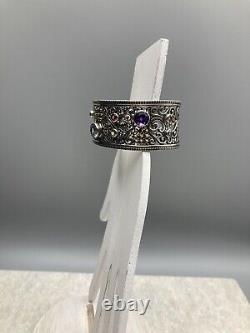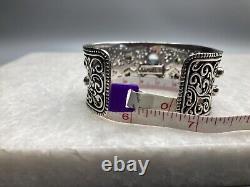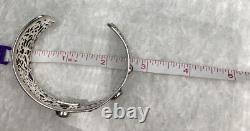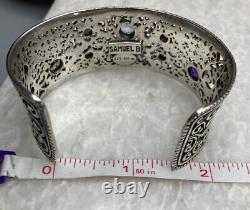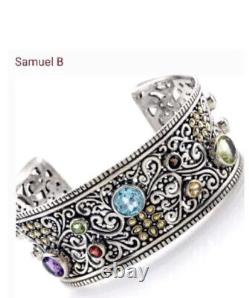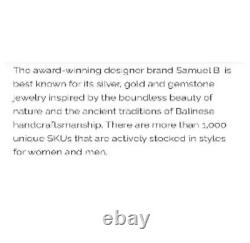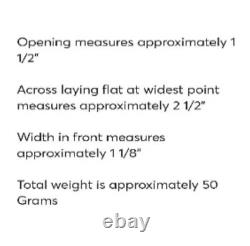 SAMUEL B BJC 925SS/18K Multi Gemstone Cuff Style Bracelet. This Samuel B Cuff style Bracelet is crafted in heavily worked 925 Sterling Silver and 18K accents with many gemstones in varying shapes and sizes. Amongst the sterling silver flourishes are Blue Topaz, Peridot, Citrine, and Amethyst stones.
They have been meticulously set in substantial bezels. This bracelet is true example of the beautiful silver smithing and labor that is put into crafting this piece. This is a weighty bracelet and is a piece that will be treasured for a lifetime! The Samuel B Collection has the heart of Bali present in each and every creation. Each item is meticulously handcrafted by skilled artisan craftsmen who have had their skill passed down from previous generations.
Little has changed in this tradition and jewelry making technique in centuries. Bali inspired jewelry crosses all cultures. Each creation embodies Bali's rich culture, art and spirituality. Precious and semi-precious gemstones add another dimension of light, cut, color and shape to the creation.
Stones are carefully selected and imported from major cutting centers of the world. Each piece exhibits the perfect combination of 18K 925 Sterling Silver with the addition of a granulation technique known as Jawan. This technique is mastered by a few and consists of adding small individual granule beads of gold to the surface of the jewelry to create a timeless classic. Unlike machine made jewelry, each piece is made entirely by hand. There are no short cuts.
This ensures individual works of art; no two are alike. Stone Information: Total Gemstones: (2) Amethysts; (2) Blue Topaz; (2) Citrines; (2) Peridots (2) Garnet. Note: See Care section below. Metal: 925 Sterling Silver/ 18K. Bracelet Measurements: Fits up to a 7" wrist; Width: 1-1/8".
Brand: Samuel B: All Samuel B designs are handmade. Country of Origin: Bali, Indonesia.
This is an outstanding and beautiful bracelet, signed SAMUEL B. And below that is BJC 925 18K. This bracelet is a heavy wide cuff. This is set with high bezel set gemstones in amethyst, topaz, citrine, peridot and garnet. This is an outstanding piece with ornate metal ornamentation...
Will also include a care cloth and anti tarnish strip. Thank you for your interest.