Moldavite Bracelet by Stones Desire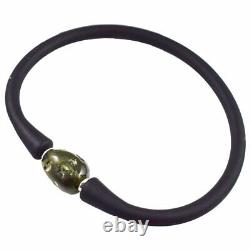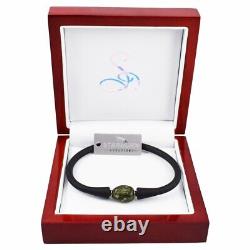 This unique one of a kind. Stone silicone bracelet has been molded in 925 sterling silver.
Moldau River in Czech Republic. Designed in Sedona, Arizona by Starborn.
Moldavite is a tektite, and a stone of intense frequency and high vibration. In ancient times it was thought to be a mystical stone that could bring good luck and fulfillment of wishes.
These natural green crystals are powerful stones for transformation, as it is thought to be the stone known as. It is an amazing crystal to create change in your life, and is one of the best stones to use for psychic protection, as negative entities find it difficult to connect to your aura when you are wearing it. Moldavite facilitates the revitalization and acceleration of ones path of personal evolution. Its vibration tends to focus in areas where one has blockages or wounds, first clearing these areas and then moving into resonance with ones entire energetic system.
Brings to the surface that which you most need to recognize, honor, integrate or clear. It is a powerful aid for meditation and dream work. Moldavite resonates on a very high vibrational level that can be felt throughout the whole body. This stone is a meteorite that crashed into the earth and has a material liken to glass. The inside measurement of the white bracelet band is 7.0" and the black is 6.25".