6MM Solid 925 Sterling Silver DIAMOND CUT ROPE CHAIN Bracelet or Necklace Italy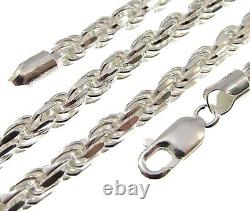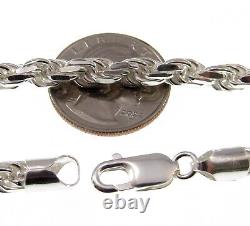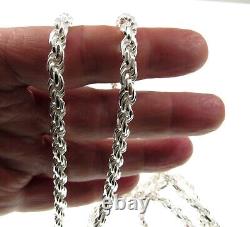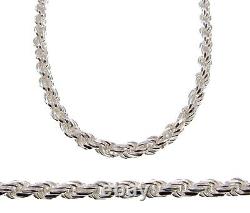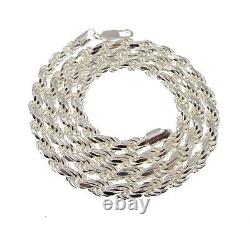 6MM Solid 925 Sterling Silver Italian Diamond Cut Rope Chain, Hip Hop Necklace. Choose your length: 7", 8", 9", 10" (Bracelets) or 18", 20", 22", 24", 26", 28", 30" or 36"(Necklaces).
These chains are solid sterling silver, not hollow like many competitors. (See weights listed below and compare). These hefty chains are extremely popular for their versatility and durability.
They look classy when worn alone, but would make a bold statement if worn with a large pendant. Diamond cut, for extra sparkle. At 6mm width, these chunky chains are appropriate for men. Made in Italy of solid sterling silver, the necklace connects with a sterling silver lobster claw clasp. I have included a photograph of the chain next to a quarter for size reference.
Pair this chain with a pendant and show inner renegade! Necklace Length: 7"-36" (you choose). Weight: 7"=18 grams, 8"=21 grams, 9"=24 grams, 10"=26 grams, 18"=49 grams, 20"=53 grams, 22"=60 grams, 24"=65 grams, 26"=72 grams, 28"= 75 grams, 30"=83 grams, 36"=100 grams. Composition: Solid Sterling Silver Quality stamped. Country of Manufacture: Italy (Hallmarked "Italy").
Renegade Jewely has been in business since 1999 with an outstanding record of quality and service. All of our silver and gold jewelry will fire assay in excess of industry standards for purity.
All of our gemstones are guaranteed genuine unless otherwise noted as lab created. Thank you so much for your business!